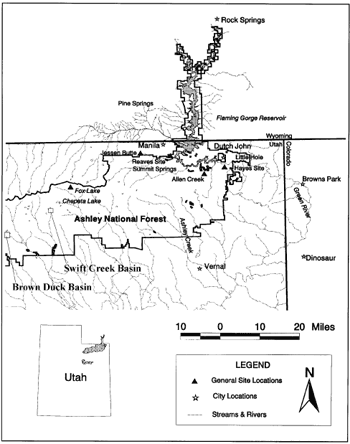 The Utah Wilderness Act of 1984 designated portions of the High Uintas in Ashley National Forest as Wilderness, including the Yellowstone and Lake Fork watersheds that house the thirteen high mountain reservoirs in Swift Creek, Garfield and Brown Duck Basins.
Settlers trying to provide irrigation to farm fields in the Uinta Basin built thirteen dams within the Yellowstone and Lake Fork watersheds between 1916 and 1930. These original dams were simple, earthen-filled structures that required significant maintenance in order to sustain their integrity. Problems associated with maintaining these dams include difficult access due to remote locations at high elevations. Under the Utah Wilderness Act, regulations restricting the use of motorized vehicles and equipment made operation and maintenance difficult over time, ultimately increasing the potential for damage downstream from eventual dam failure and flooding.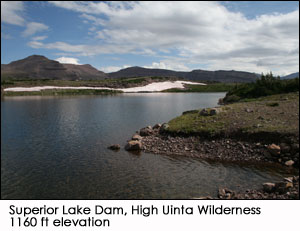 The Utah Reclamation Mitigation and Conservation Commission and U.S. Department of the Interior were authorized to carry out the High Lakes Stabilization Project as part of a mitigation program that is a component of the Uinta Basin Replacement Project. The overall goal for the High Lakes Stabilization Project was to stabilize these historic dams by establishing "No-Hazard" levels and conditions at these reservoirs. No-Hazard levels means reducing the risk of catastrophic damage from potential floods and dam failure by breaching and then stabilizing the lakes to near natural levels.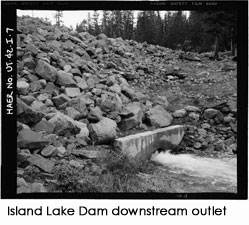 Benefits of stabilizing the thirteen High Mountain lakes include establishing "No-Hazard" conditions. Ultimately, stabilizing the lakes will restore their natural integrity and re-establish natural hydrologic runoff patterns within the High Uintas Wilderness. Stabilizing the lakes also eliminates the need for operation and maintenance at these dams.
Providing early and late season irrigation water and municipal and industrial water supplies to the Uinta Basin continues to be essential to the economic success of the Basin today. By transferring water rights downstream to the Big Sand Wash Reservoir and making necessary modifications to the existing Moon Lake Dam outlet works and constructing the new Big Sand Wash Feeder Diversion Structure and Pipeline, enlarging Big Sand Wash Reservoir, constructing a new Big Sand Wash-to-Roosevelt Pipeline, the stabilization process of the thirteen high mountain lakes was made possible. Stabilizing the high lakes in the High Uintas Wilderness Area not only provides continuous supply of water closer to the Uinta Basin, but also allows water to be managed more efficiently.